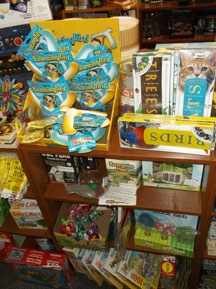 We offer a wide range of educational toys and games.  No batteries are ever needed.  We encourage hands on learning of both science and nature.
          We cover categories from anatomy through zoology, and everything in between including activity, animals, astronomy, birds, building kits, executive desk toys, flight, fossils, games, insects, nostalgic, novelty, reptiles, plush, rocks.
          Some specific lines include:
Brain Quest – its OK to be smart.
Channel Craft – toys made in the USA.
Green Toys – toys made in California using recycled plastic.
Holgate Toys – toys made right here in Bradford, PA.
Maple Landmark – toys made in the state of Vermont.